Building No.9 Thames City is unveiled as Nine Elms development and demand increase
Selling agents, JLL forecasts rise in prices by 22.5% over 5 years
Nine Elms - one of UK's biggest regenerations - welcomes residential success following transformational Northern Line Extension.
HONG KONG, 17 November 2021 - Global property developers R&F Properties (UK), and C C Land, are proud to launch Building No.9, Thames City, a collection of 227 of one to four-bed apartment and penthouse units ranging from 603 sq ft to over 5,000 sq ft of spacious and lateral residences, set across 37 storeys, centred in the heart of Nine Elms – London's most desirable riverside neighbourhoods.
Set to welcome first residents in Summer 2022, Thames City is one of the largest mixed-use schemes to be built in the UK, a thriving new district for central London and the eastern hub of the Nine Elms regeneration programme.

Nine Elms is witnessing increased demand, following the recent opening of London's Northern Line Extension, which will include a new station at Nine Elms serving their Thames City development. Sales agents, JLL anticipates significant increase in sales and lettings within Nine Elms over the next five years, with uplift sales and rental forecast at 22.5% and 13% respectively.

This is the second building to be unveiled by R&F Properties UK at Thames City this year, following a successful launch of Building No.8 Thames City, a 53-storey building offering new and unparalleled views across the River Thames and London.

Designed by internationally acclaimed architects Skidmore Owings & Merrill LLP (SOM), with interiors by award winning interior studio HBA Residential –Thames City is already forming a thriving and exceptionally connected new district in 'downtown' central London.

With interiors by HBA Residential, the international residential specialist of Hirsch Bedner Associates, the open-plan and flexible spaces have each been delivered to a high- specification and finish. Boasting unrivalled and panoramic views across the River Thames, natural light floods through each home through floor-to-ceiling windows, and residents will also benefit from large terraces to truly and bring the outdoors in.

Residents of Building No.9 Thames City will have access to a wealth of exceptional five-star services and amenities, internationally acclaimed luxury design studio AB Concept.

These exceptional spaces have been designed by AB Concepts including a spa wellness centre consisting of relaxation and treatment rooms, a large swimming pool, steam, sauna and jacuzzi, gym with yoga and dance studios, level 39 sky lounge (located in Building No.8).

In addition, there will be podium private dining, private lounge and bar, cinema, karaoke, business centre, library, kids play and 24-hour concierge, in addition to a private entrance lobby, extensive podium roof gardens and 2 private podium courtyards with secure valet parking.

Guan Zhixiong, Chairman of R&F Properties (UK): said: "The launch of Building No.9 Thames City elevates contemporary living in the heart of a growing riverside community at Nine Elms, offering a new and rare opportunity in London's most desirable neighbourhoods.

"Sales to date have been successful and we look forward to welcoming first residents in Summer 2022. Thanks to the Northern Line Extension, and local development contributions – where we are providing an abundance of green spaces, including a new park – we are already seeing the area dramatically taking shape as it transforms into London's coolest riverside neighbourhoods."

Dickie Wong, Deputy Chairman and Executive Director of C C Land, said: "Together with R&F, we're delighted that Thames City is already set to launch its second building, as its development pipeline continues to be delivered at strength and pace.

"We look forward to welcoming residents next year, and look forward to many upcoming announcements – across residential, commercial and public realm – over the next few months, as Thames City is transformed into prime Central London's most in demand 15 minute neighbourhood."

Nick Whitten, Head of UK Residential & Living Research at JLL, said: "Elevating London luxury living, Thames City provides a unique and unparalleled opportunity south of the river. Rivalling many traditional and prestigious neighbourhoods, many buyers and investors look to prosperous Zone One locations – such as Nine Elms – where there is both opportunity and investment potential,"

"The London property market is witnessing an increase in rental demand, following pent up activity as a result of the pandemic. Building No.9 Thames City, which welcomes first residents next year, presents a unique and central riverside opportunity in the early stages of growing interest and demand in the area. Furthermore, excellent new transport connections, such as the recent opening of the Northern Line Extension station, are highlighting the area's potential as a Prime district."
Placing wellness and open space at the heart of this Zone One London location, a Great Lawn, network of walkways, cycle paths and intimate green spaces along the river will provide residents and the public a peaceful retreat from the hustle and bustle of the city.
Prices for Building No.9 Thames City start from: £799,000 (about HKD 8.37 million) and is on the market with international agents JLL.
For more information, please contact Mandy Wong, JLL, tel: +852 3759 0909, email: irp.hk@ap.jll.com, or visit www.thamescity.com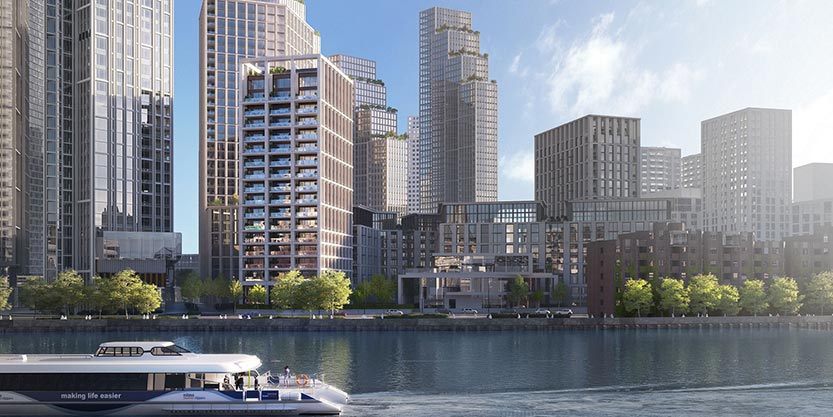 ---
About R&F
R&F Properties is an international leading property developer for Luxury Real Estate, established in China 1994.
It is listed in Hong Kong and has a market capitalisation of around £3.6B, with a recent development pipeline equivalent to about 10% of the approximately 40,000 new homes expected to be built in London this year.

It aspires to provide positive real estate schemes across the world and works closely with local UK communities, businesses and stakeholders, to deliver the most appropriate schemes for the benefit of all boroughs.

R&F is today regarded as a leading property developer focused on the design, development, construction, sale, property management and property related services worldwide and officially licensed to develop high class property developments and provide Luxury Living.

About C C Land
Headquartered in Hong Kong, the core business of C C Land is property development and investment as well as treasury investments. The Group started to build its global property portfolio since early 2017, and now has both investment and development projects in the United Kingdom, Australia, Hong Kong and mainland China.

The Group's business strategy is to have a balanced property portfolio with both stable recurring rental income and property sales revenue in developed cities worldwide.

JLL (NYSE: JLL) is a leading professional services firm that specializes in real estate and investment management. JLL shapes the future of real estate for a better world by using the most advanced technology to create rewarding opportunities, amazing spaces and sustainable real estate solutions for our clients, our people and our communities. JLL is a Fortune 500 company with annual revenue of $16.6 billion in 2020, operations in over 80 countries and a global workforce of more than 95,000 as of September 30, 2021. JLL is the brand name, and a registered trademark, of Jones Lang LaSalle Incorporated. For further information, visit jll.com.