Continued demand sees Battersea power station undertake roadshow to HK
Roadshow coincides with release of new interior images from leading architects Gehry Partners, Foster + Partners and WilkinsonEyre
Stunning apartments in the iconic Power Station and Electric Boulevard available to purchase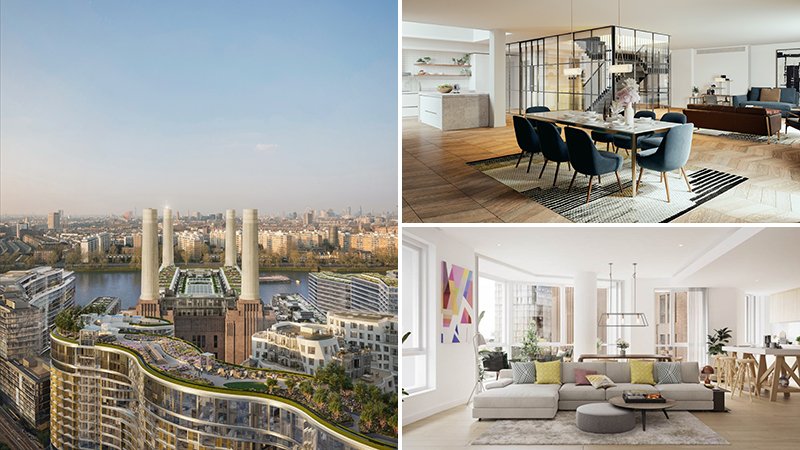 29 August 2019 – Battersea Power Station will be capitalizing on continued interest it has received for a new roadshow to Hong Kong, satisfying demand from customers and prospective buyers in the region for an opportunity to find out more about Europe's largest regeneration project. This will also be a chance to explore buying into one of the most iconic landmark buildings in London, with a limited selection of apartments in the famous Power Station building as well as Electric Boulevard available to purchase.
The Roadshow follows a year in which over £120m of residential sales have taken place, with both domestic and international buyers continuing to see the appeal of this vibrant mixed-use riverside project which includes the globally iconic Battersea Power Station. Whilst roughly 50 per cent of total sales have been to the UK market whilst Asia is the next most important region, accounting for approximately one third of total sales. Overseas buyers are keen to take the opportunity in the relative value of the pound which increases the attractiveness of pricing for international purchasers.
The restoration of the Power Station, which is being carefully restored and transformed by WilkinsonEyre, continues at pace ahead of its opening to the public in 2021. It will soon become home to Apple's new London Campus as well as IWG's business members club, No18, shops, restaurants, cinemas, a food hall and several events spaces including the famous Chimney Lift Experience.
A limited selection of apartments are available to purchase in this iconic landmark and the first completed show apartment is to be unveiled this Autumn, with stunning interiors by British design studio, TH2. The Power Station contains 253 apartments which are split between the original fabric of the building, with historic features such as the original steelwork on show, as well as stunning new penthouses at the upper levels boasting their own roof gardens and unrivalled views over the River Thames and the wider London skyline. These, along with apartments in Frank Gehry's only residential building in the UK and the stunning Foster + Partners building, will be some of the most unique properties anywhere in the capital.
New images released today also showcase the stunning interiors of apartments designed by Gehry Partners and Foster + Partners. Gehry Partners has designed two palettes for the interiors of Prospect Place, "LA", which celebrates adventure and excitement and is lighter in colour and tone, and "London", which takes inspiration from the city's streets, textures and colours.
Battersea Roof Gardens and Prospect Place represent the first ever collaboration between Foster and Gehry and together make 'Electric Boulevard', the third phase of the regeneration project.
Foster + Partners recently unveiled designs for Battersea Roof Gardens which will become one of the largest roof terraces in Europe, where residents and visitors will be able to enjoy panoramic views over London and onto the iconic Power Station itself. The terrace, which features picnic spots, sun decks and fitness areas, has been designed by the team behind the New York High Line – James Corner Field Operations – with delivery being managed by LDA Design.
Apartments at Battersea Power Station are available to purchase from £510,000 (about HKD 4.9 million).
Simon Murphy, CEO of Battersea Power Station, said: "With more than 1,000 people already living in Circus West which is the first Phase of the development we are now making great progress with the transformation of the Power Station itself as well as our exciting third phase – Electric Boulevard where we are creating new iconic buildings to complement the Power Station itself. As interest and demand from prospective buyers remains strong, we are delighted to be updating customers both at home and abroad, on the many opportunities to invest and live in this very special new central London community."
Mandy Wong, head of International Residential at JLL in Hong Kong, said: "Buyers from Asia continue to be attracted to London as an investment hub. Despite uncertainty surrounding Brexit, the city remains one of the most appealing places in the world in which to invest thanks to its robust regulatory framework and strong fundamentals underpinning its appeal, including excellent schools and higher education, a thriving cultural scene with unrivalled theatres, museums and attractions as well as some of the best shopping and dining experiences in Europe."
"For buyers in Asia, Battersea Power Station presents a great opportunity to buy into a piece of British history. It also offers a chance to be part of something really exciting – never again will this sort of project take place. It is in the heart of prime central London, directly on the River Thames and is set to benefit from major transport improvements with the introduction of the Northern Line Extension and new tube station. Plus, you have a London landmark at the centre of it all – that opportunity is never going to repeat itself so this is really exciting," she added.
Fosters' Battersea Roof Gardens will be an undulating building with a glass façade, designed to be crisp and white in contrast to the brick Power Station. The homes will be styled in a subtle 1930s theme inspired by the Power Station, with two finishes available; Cloud and Steam. The northern end of the building will be home to the art'otel, a new 167-room hotel boasting a rooftop swimming pool and bar.
At Gehry's Prospect Place each individual building has its own personality and style and all the apartments come with winter gardens or their own terraces to maximise the light and views.
The first phase, Circus West Village, is now complete and nearly 95% occupied, with over 1,000 residents as well as a selection of restaurants, shops, bars and cafes and a pier servicing the MBNA Thames Clippers River Bus.
Exhibition details:
Date: 7th & 8th August 2019 (Sat & Sun)
Time: 11:00am – 7:00pm
Venue: Victoria & Edinburgh Room, 2/F, Mandarin Oriental Hong Kong, 5 Connaught Road Central, Hong Kong
For more information about the project, please contact:
Mandy Wong, irp.hk@ap.jll.com; (852) 3759 0909 or visit
---
JLL (NYSE: JLL) is a leading professional services firm that specializes in real estate and investment management. Our vision is to reimagine the world of real estate, creating rewarding opportunities and amazing spaces where people can achieve their ambitions. In doing so, we will build a better tomorrow for our clients, our people and our communities. JLL is a Fortune 500 company with annual revenue of $16.3 billion, operations in over 80 countries and a global workforce of nearly 92,000 as of June 30, 2019. JLL is the brand name, and a registered trademark, of Jones Lang LaSalle Incorporated. For further information, visit jll.com
About Battersea Power Station
Battersea Power Station is one of central London's largest, most visionary and eagerly anticipated new town centres in which roughly half the development will consist of shops, restaurants and office space. In addition, there will be a six-acre public park, a town square and a new tube station (scheduled to be within Zone 1).
The Battersea Power Station project covers 42 acres and includes 3.5m sq ft of mixed commercial space, together with 4,239 new homes.
The successful regeneration of Battersea Power Station will create 20,000 new jobs, inject £20bn into the UK economy and create a funding mechanism for the first major tube line extension since the Millennium. A new NHS medical facility is also being built.
Circus West Village is the first phase of the development that opened to the public and residents in 2017 and forms the heart of the neighbourhood, providing a mix of new shops and restaurants, as well as an ongoing programme of events that have been enjoyed by over two million people so far. A new MBNA Thames Clippers River Bus service also commenced in 2017.
The Battersea Academy of Skills Excellence (BASE), the development company's bespoke jobs and training service created for those living locally, was launched in 2016.  It is focused on matching people with jobs at Battersea as well as providing training relevant to the job pipeline at the development.
The wider Battersea Power Station development is owned by a consortium of Malaysian investors comprised of S P Setia (40%), Sime Darby Property (40%) and The Employees' Provident Fund (20%), with the commercial assets within the Power Station building now being directly owned by Permodalan Nasional Berhad (PNB) and EPF.
Management of the development is being undertaken by the British-based Battersea Power Station Development Company.